Crossley Mill still has limited spaces available, please book in to look around and register your interest with us.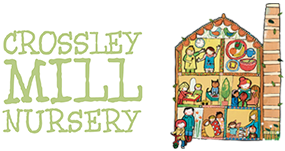 Maisy
Lilliputs - Nursery Practitioner - Working towards Level 3
Joined in: September 2019
Story:
Hello, I am Maisy.
My Journey at Crossley Mill started in 2019 when i joined the team as a student working towards my Level 2 childcare qualification. I knew whilst being a student gaining the experience of watching and supporting children grow that it was something i would love to do full time.
My passion grew during my first year at Crossley Mill which lead me to complete the first year of my level 3 childcare studies qualification at Calderdale College.. During my time studying at College i was offered the opportunity to join the Crossley Mill bank staff, covering staff on annual leave which gave me real hands on experience within all the nursery rooms.
I am currently working towards completeing my final year of my level 3 qualification and i have been given the opportunity to do this full time as an Early Years apprentice based within the Lilliput room.
I absolutely love my role at Crossley Mill and really apprecaite the support i have been given along the way which has given me the knowledge and confience to be the best practtioner i can be.
I look forward to meeting you all.