Holiday Club bookings for Summer 2022 will be opening on Monday 27th June 2022.....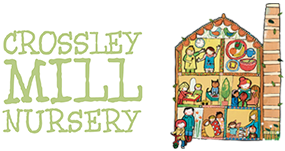 In the heart of Hebden Bridge, Crossley Mill Nursery provides home-from-home care for babies, toddlers and pre-school children. We understand that leaving your children in the care of others is one of the hardest things you can do, that is why back in 1998, a fully parent-led non-profit was born.
At Crossley Mill there are no shareholders, there is no 'bottom line' so the only thing we invest in is your children.
"
My son has loved his two years with you and we've been so grateful for everything nursery have done for our boys over nearly a five year period – thanks to you all for making it such a welcoming, safe and stimulating environment. We never hesitate to recommend Crossley Mill to other parents looking for a nursery.
- July 2017
"
Our child will really miss Crossley Mill and all the lovely people who have looked after her. She has really grown in confidence since being there.
- July 2017
"
Our child has had such a good time at Crossley Mill. She's been telling me how she'll be having two birthday parties: one for her school friends and one for her crossley mill friends. I think all the staff are going to be invited to the crossley mill party, so save the date! 😉 Hope you're enjoying the sunshine.
- July 2017
"
I would like to take this opportunity to thank all the staff for making our sons time at Liliputs and Gullivers so enjoyable this last year and the transition for us from life in France so smooth. I'm sure he will miss you all.
- July 2017