Crossley Mill still has limited spaces available, please book in to look around and register your interest with us.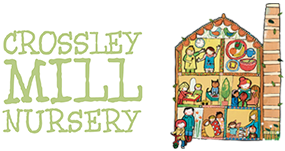 Fees
Morning session
8am - 1pm (temporary opening time)
£30 From May 2021
Afternoon session
1pm - 5.30pm (temporary closing time)
£30 from May 2021
Full day
8am - 5.30pm (temporary opening/closing hours)
£50.50 From May 2021
Full time monthly fee (5 day place)
TBC
From the age of three, your child may qualify for Early Education Funding.
"
My son has loved his two years with you and we've been so grateful for everything nursery have done for our boys over nearly a five year period – thanks to you all for making it such a welcoming, safe and stimulating environment. We never hesitate to recommend Crossley Mill to other parents looking for a nursery.
- July 2017
"
Our child will really miss Crossley Mill and all the lovely people who have looked after her. She has really grown in confidence since being there.
- July 2017
"
Our child has had such a good time at Crossley Mill. She's been telling me how she'll be having two birthday parties: one for her school friends and one for her crossley mill friends. I think all the staff are going to be invited to the crossley mill party, so save the date! 😉 Hope you're enjoying the sunshine.
- July 2017
"
I would like to take this opportunity to thank all the staff for making our sons time at Liliputs and Gullivers so enjoyable this last year and the transition for us from life in France so smooth. I'm sure he will miss you all.
- July 2017