Bookings for October half term at the Holiday club are now taking place......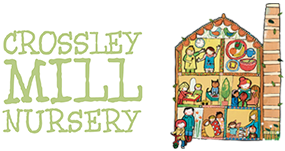 Crossley Mill through a parents eyes.......
I had no idea what to expect of day nursery provision when we were looking for somewhere for Our boy to go, back in 2017. Crossley Mill was the first place we viewed, Andrea showed us around and explained how things worked. We didn't bother looking anywhere else - we didn't need to; the impression we got was of a friendly, professionally run, safe and welcoming place, and this impression was sustained with all subsequent communication with Jessica and the rest of the team. Crossley Mill set a high bar for my expectations of what to expect from a day nursery, now that I've seen some other nurseries, and now that I have something to compare against, it is more clear than ever that Crossley Mill is a first rate provider, setting a really impressive benchmark of quality, particularly in the following areas: - communication with and involvement of parents/caters: We were never left guessing anything at Crossley Mill; the team always seemed to know what was going on, communication with us was always clear, reliable and helpful - settling in process for new starter/transitions between rooms: the process was well scheduled, integration planning was well considered and child & parents were well looked after throughout - consistency & reliability: links to the communications point above - whenever we were told anything would be done by one of the team at Crossley Mill, we could count on that being the case Yes, it's in a lovely place and the quality of resources etc is great. But of course, it's the people that create the experience. The close personal attention paid by the staff to look after our boy (& his mum and Dad!), we knew would likely be different in a larger place. But the flawless standards of professionalism at Crossley Mill - which I took for granted - are also something to be proud of; they're not the same everywhere. Thanks again for looking after Our boy so well. I knew it was fantastic at the time and I now appreciate even more how special a place you have.